The Canyon Rim Symposia Series Presents
Everest X2
Featuring Jeff Rhoads
1 week | 2 summits
Given May 9, 2019
In 1998, Jeff Rhoads became the first American climber to summit Mt. Everest twice within one week. Now a resident of the Canyon Rim neighborhood of Millcreek City, Jeff's symposium presentation highlights his journey to the world's tallest peak and what lead him to accomplish something that had never been done before. Fraught with challenges, disappointment and unsuccessful attempts, Jeff's quest exemplifies the resiliency and perseverance to accomplish any lofty or difficult goal.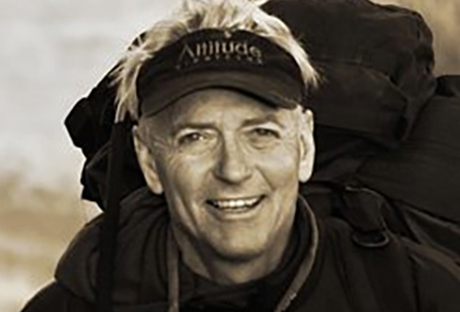 About Jeff Rhoads
Jeff was born and raised in the Intermountain West and grew up loving the outdoors, so much so he made it his life. In his 20s and 30s, he completed several major first climbing ascents and first skiing descents, including Castle Peak in the White Clouds and the Ford Couloir on the Grand Teton. In addition he worked as a river guide throughout the west and a mountain guide around the world, including Denali, Pakistan, Nepal, China and South America. In 1998 he became the first man to summit Everest twice in one week, all the while filming for CBS the first disabled climber to reach the summit.
He also filmed, co-directed, and co-produced two documentaries – "The Women of K2" and "3000 Cups of Tea," both with his wife Jennifer Jordan.
In addition to climbing his adventures, Jeff has filmed a huge variety of shows – American Ninja Warrior, Survivor, Searching for the Yeti, Flying Snakes, Eco Challenge, Life on the Line about long-line sword fishing in the North Atlantic, and two Winter Olympics — just to name a few.
Over the years, Jeff has filmed for every major network and most of the cable channels. He climbs, skis and bikes the Wasatch mountains behind his house as often as possible.