Service Project Overview
Empowered Survival
Empowerment Stones for Indviduals Undergoing Cancer Treatment
Goal: 200 Stones
Funds Needing to be Raised: $250
Empower Cancer Survival
Empowered Survival, a non-profit organization, empowering cancer survivors to increase hope and quality of life through health and wholeness programs, services and support.
ES was founded in 2018 by a group of cancer survivors and family and caregivers of survivors, who through their own experiences recognized a great need to empower survivors to emotionally heal and rebuild after cancer and to learn strategies that would increase the quality of their life and overall health and well-being.
Our flagship service is our empowered survival retreats. These are three-day, two-night, all-inclusive retreats held in a serene mountain setting.
Through instructional and interactive session survivors are taught interventions that: 
Increase healing and quality of life
Influence the body's natural ability to maintain and restore balance and health
Sustain and nurture the spirit
Increase hope, joy and a positive outlook
Other services include online courses, free resources, an online community of support and small group and individual mentoring.
Each service we offer will educate and support survivors in one of these seven areas of health and well-being:
 Nutrition and Diet
 Movement and Exercise
Brain Health
    Spiritually
     Sleep and Hydration
      Growth Mindset
    Mindfulness and Mediation
Day of Service Project Overview
Empowerment stones are beautifully hand painted stones that carry messages of hope, strength, courage and love to those living with cancer. They bear the name of the artist and represent a gift of empowerment from one person to another. 
Interesting to note and maybe we can somehow use this comparison but rocks are formed when existing rocks are subjected to such large pressures and temperatures that they are transformed. Many cancer survivors say that they personally have been transformed by the journey of cancer.
Ages 12 and up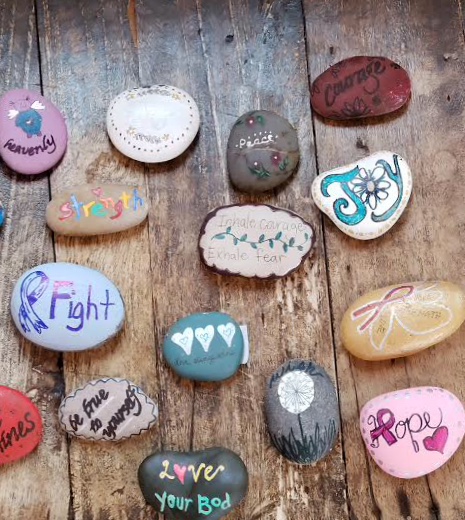 Donations Needed for Project
$250
Cellophane bags
Ribbon
Table coverings
*All donations are tax deductible
Canyon Rim Cares is Supported By